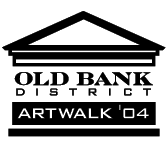 Old Bank District Artwalk 2004
. . . . . . . . . . . . . . . . . . . . . . . . . . . . . . . . . . . . . . . . .
The Old Bank District Artwalk
Sunday, September 26, 2004
12:00 noon - 6:00pm
Bands and Singers performing live at the Artwalk [on Main Street]
Devotchka

"In the tiny theatre of my mind where dream dramas unfold, the curtains are blood red and the orchestra is Devotchka."
-- Jim White (Luaka Bop recording artist)
[ The DEVOTCHKA website ]



Chris Pierce

Chris still remembers the first time he heard Bill Withers belting out "Lean On Me", and "Aint No Sunshine". He said to himself, "Here's this brother, expressing himself freely... I can do that too". From that point on, Chris has been mesmerizing audiences from Maui to Moscow...
[ The CHRIS PIERCE website ]



Esperanza

Esperanza is a singer with an amazing range. She blew away the crowds at the Artwalk last year with her powerful delivery of original songs that originate deep within her heart.
[ More info on ESPERANZA ]



Dream School Diary

Dream School Diary began as a songwriting project for LA bassist, Teresa Cowles (formerly of Dragsterbarbie). After teaming up with Ed Horowitz on guitar and Stefano Ashbridge on drums, the project took on a life of it's own...
[ DREAM SCHOOL DIARY music samples ]
[ More info on DREAM SCHOOL DIARY ]



Tamara Cimmerian

Operatically trained, but with a history in more aggressive, industrial/goth, Tamara Cimmerians's sound today is equal parts sweet and salty.
[ More info on TAMARA CIMMERIAN ]



A Special Thanks to Guitar Center, Sherman Oaks

For a second year in a row, Guitar Center Sherman Oaks is supporting the Artwalk by providing the PA system for the bands. Guitar center is a great source for audio gear and software needs, in addition to offering a very wide range or musical instruments. Visit their store at 14209 Ventura Blvd., and ask for Jason.
[ The GUITAR CENTER Website ]


Bookmark this page for updates!

[ RETURN to ARTWALK Main Page ]


....................
Other Links:
Read about last year's MUSICIANS, SPONSORS and SPECIAL CONTRIBUTORS.

Photos:
See PHOTOS from ARTWALK '02 and '03, plus IMAGES of the OLD BANK DISTRICT.


The Old Bank District Artwalk is a 100% volunteer effort presented by the residents and businesses of the Old Bank District, with the help of their friends and supporters. Artwalk 2004 was dedicated to the memory of our departed friend and neighbor Jean Hering.

This website is sponsored by THE MONTIBON COMPANY.