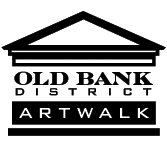 OLD BANK DISTRICT ARTWALK:
Open Lofts, Galleries & Live Music in Downtown Los Angeles
. . . . . . . . . . . . . . . . . . . . . . . . . . . . . . . . . . . . . . . . . . . . . . . . . . . . . . . . . . . . . . . . . . . . .

The Old Bank District Artwalk

This Downtown Artwalk features Open Lofts, Galleries & Live Music. The Artwalk is a free grassroots community art event presented by downtown artists, residents and businesses.

The Old Bank District Artwalk features open lofts in three historic loft buildings, plus the work of over 75 artists, including local painters, sculptors, jewelry designers, fashion designers, photographers, musicians, interior designers, writers, poets, media artists and other creative professionals.

The Old Bank District Artwalk
400 So. Main Street (at the corner of 4th and Main St.)
in the historic Old Bank District, Downtown Los Angeles.
Participating artists:
Richard Ankrom, Fumiko Amano, Geza X, Roy Montibon, Liz McGrath, Rachelle Rojany, Beth Dubber, Cindy Keefer, Miguel Osuna, Launa Bacon, Lisa Prichard, Beth Herzhaft and more.
See the list of OPEN LOFTS, PRESENTATIONS and EXHIBITS.

Participating galleries:
PHARMAKA, BERT GREEN FINE ART, BANK, EL NOPAL PRESS, LOS ANGELES CENTER FOR DIGITAL ART (LACDA), and SELAH ARTISTIC GIVING CENTER.

Participating muscians and performers:
Layton, ALSO, PROSPERUS, KATZENJAMMER, MILLION BILLION, DJ Ketan, DJ Nito, Jdub, Poncho, Gamet, THE GLOWBARS and DON GARZA, Downtown LA Town Crier.
See the MUSIC SCHEDULE.

Presenting Sponsor:
THE MONTIBON COMPANY.

Community Sponsors:
GUITAR CENTER, THE GROOP, ATELIER ZERO, UCLA EXTENSION, CARPE DIEM BEVERAGES, BANK, and DEUSONICA.

Participating Businesses and Organizations:
PETE'S CAFE, ORANGE 22, SITUATION NORMAL, LOST SOULS CAFE, LA FREEWAVES, CENTER FOR VISUAL MUSIC, VOICE LESSONS by ESPERANZA, PHOTOGRAPHIC IMAGE ARTS, STUDIO BEOWULF, GALLERY ROW ORGANIZATION, LOS ANGELES POLICE DEPARTMENT, Old Bank District Market, Banquette, Warung Cafe, Rocket Pizza, Park Market, Blends and Bar 107.

A Special Thanks to everyone at:
GILMORE ASSOCIATES

MAPS:
Google Map of 4th and Main St., Downtown Los Angeles.
Map of the OLD BANK DISTRICT in the Historic Core of DOWNTOWN LOS ANGELES.

The 4th Annual OBD Artwalk coincided with the 100-year anniversary of the FARMER'S and MERCHANTS BANK BUILDING (a Los Angeles Historic-Cultural Monument) at the corner of 4th and Main St., downtown.

Read about previous OBD ARTWALKS:
In addition to the dozens of Open Lofts, the 2004 Artwalk included:
LIVE MUSIC on Main Street
In-Studio PERFORMANCES
PERFORMANCE ART and INSTALLATIONS
GALLERIES and Open SHOWROOMS
RESTAURANTS and CAFES
After-Artwalk SOCIAL EVENTS
VOLUNTEERS

Artwalk MUSICIANS, SPONSORS and SPECIAL CONTRIBUTORS from 2002-03.

See PHOTOS from previous Artwalks, plus IMAGES of the OLD BANK DISTRICT.
The Old Bank District Artwalk is an all-volunteer, grassroots presentation by the residents, businesses and creative community of the Old Bank District in Downtown Los Angeles, with the help of friends and supporters.

This website is sponsored by THE MONTIBON COMPANY.