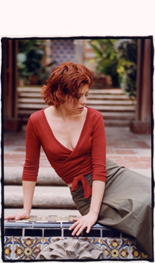 Esperanza Cordero | Voice Lessons
. . . . . . . . . . . . . . . . . . . . . . . . . . . . . . . . . . . . . . . . .

Voice lessons by singer Esperanza Cordero are now available for beginning singers in Los Angeles in half-hour and one-hour sessions.
Weekday evenings and weekends by appointment.
Lessons are for beginning singers of all ages.
Twenty Five Dollars per half-hour, Forty Dollars per hour.
By appointment only.
. . . . . . . . . . . . . . . . . . . . .

Location:
Voice lessons will be held in the Music Room of the Granada Hill Babtist Church.
Address: 10949 Zelzah Ave., Granada Hills, CA 91344.


For more information about Voice Lessons by Esperanza Cordero, and to schedule
a no-obligation FREE introductory voice lesson, please call 213.841.0650.

About Esperanza

I have enjoyed being involved with music all of my life. As a child, I spent many hours singing along to musicals and operas. During that time, I developed bad habits as a result of singing music that was not appropriate for my age. I was also singing incorrectly, which did not support my voice so that it could evolve naturally and without hinderance. It is my intention to share the joy of singing with kids as well as to protect their special instruments as best as I can.

My training includes studying at Indiana University and with Ron Anderson. I am a professional singer and am in the process of recording my debut album. If you have any questions, please feel free to contact me.

Esperanza Cordero

For inquiries call: 213.841.0650.

NOTE: The Esperanza Cordero that is conducting voice-lessons is not the character from the wonderful book, "House on Mango Street", but is a real, live singer/songwriter living and working in the Los Angeles area.

For more information about ESPERANZA, the singer, CLICK HERE.

For information on the book "House on Mango Street", CLICK HERE.

[ RETURN to The Old Bank District ARTWALK Main Page ]


Copyright © 2007, Esperanza Cordero, All rights reserved.