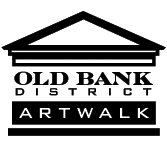 Old Bank District Artwalk 2005
. . . . . . . . . . . . . . . . . . . . . . . . . . . . . . . . . . . . . . . . .
The Old Bank District Artwalk 2005
Open Lofts, Presentations and Exhibits
Farmer's and Merchant's Bank
Bank Centennial Art Exhibit

Richard Ankrum, Installation
Fumiko Amano, Painting
Roy Montibon, Limited-Edition Giclee Print
Rachelle Rojany, Cibachrome Print
Miguel Osuna, Painting
Beth Herzhaft, Six Cibachrome Prints
Cindy Keefer, Video Installation


San Fernando Building
Lobby Retail Space: Fashion Exhibit
Presented by Selah Artistic Giving Center

Lobby: Adrienne and Murray Jamieson
Featuring Floral Designs by Adrienne Jamieson

209: Overton Loyd

301: Studio Bert Forma
Top designs on the latest fabrics from Europe

302: Miguel Ortega
Monsters... and more monsters.

404: Lisa Prichard
The ceramic tile art of Lisa Prichard
"...pretty girls, pretty colors, shiny and dull surfaces configured in symmetries, asymmetries, reflections, mandalas, molecules, flowers, fractals, shooting stars, throwing stars and _____."

406: Lara Mellema
The art of the Mellema family.

608: Ken Montgomery
The photography of Ken Montgomery

709: Audrey Russell
The work of Marwan Nahle, Julie Dorsey and Audrey Suzanne.
Marwan, a painter born in Beirut, Lebanon, has had 77 shows internationally since 1988. Julie snips bits from the physical world and splashes texture onto her canvases, "to open the window to dream worlds and open the door to the subconscious". Audrey began showing crayon drawings mapping underwater fantasy worlds and sculptural works including magical tree houses in the early eighties. Contact us at 213-625-0177.

Elevator Landing, 8th Floor: Adrienne and Murray Jamieson
Floral Designs by Adrienne Jamieson

803: Aaron Neubert
The work of Orenj Studio

807: Miguel Osuna
The paintings of Miguel Osuna

808: Roy Montibon and Julie Tumblety
Featuring the work of:
Roy Montibon, Works on Canvas
Geza X, Digital Print on Canvas
Liz McGrath, Sculpture
Beth Herzhaft, Photography
Alexia Montibon, Painting
Julie Tumblety, Photography
Beth Dubber, Photography
Haylie Cook, Photography
Paul Schroder, Photography
Rita Montibon, Painting
Jill Vaccara, Jewelry
Traction Press, Custom Letterpress Printing
Riitta's Cards, Handmade Greeting Cards

810: Joe Cornish and Ruby
Featuring bull terrier Ruby, the Old Bank District's first canine resident.


Continental Building
2nd Floor Library: Poet's Room
Presented by Selah Artistic Giving Center

901: Ryan Brown

1003: Sylvia Frumes

1104: Jim Abbott
The music of J. Abbott: the Glowbars, and music for film and television
jimabbottmusic.com

Sheer Audacity, a sketch comedy TV show w/ sexual themes, DVD
sheeraudacity.com
sheeraudacity@earthlink.net

Chinese gifts presented by Kelly Kang
kellykang300@yahoo.com

1201: Tamara Cimmerian

1202: Jim White
Featuring the following:

Bill Cooper - the Loft Expert - with information on downtown from www.yoursource4lofts.com 310.721.2455

Co- Founder Joanie Nelson / Diana Lesczynski - Avenue TRO (The Road Onward) - helping homeless families stay off the street 323.377.5402 Avenuetrodiana@aol.com

Lori Tierney - Artist/Painter - displaying recent work www.latierney.com 310.497.6346

Rebekah Vandenberg - Entranced Awakenings - hypnotist, producing trance CD's for personal/spiritual growth 310.795.3000

Nancy Young - Bioelectric lymphatic drainage 310.384.6887

Bryan Peterson / Jim White - the World is a Safe Place - book project www.theworldisasafeplace.com 213.620.8000


Hellman Building
317: Charles Watson

318: Catherine Mirando

321: Russell Brown
Community Activist and Art Patron

409: Amy and Geoff Mitchell
This loft will be showing Geoff Mitchell artwork. Geoff is an accomplished painter who has shown all over the United States and Europe. Check out his website at www.geoffmitchell.org.

419: Jacqualine Mills-Lord and Nik Lord
The work of Nik Lord

522: Josh Spencer
Epilogue Booksellers -- New & Used. Browse 90 feet of shelved books priced $1 and up!

PLUS: The sci-fi art of Chris Grun (from HB 521), who has worked in video game design for the last 10 years, and is now moving into comic book illustration.

611: Todd DiTomaso


Harlem Alley
Special Presentationsby Lost Souls Cafe -

Loose Change:
12:00pm, Screening

Anakbayan LA:
1:00pm, Screening & Discussion

Akasha:
3:00pm, Live Music

Passion & Poetry:
4:00pm, Open Mike

Noam Chomsky's "Rebel Without a Pause":
7:00pm, Screening


Continental and Hellman Street Level Spaces
West side of Main Street
Art by Launa Bacon.

Continental Building Ground Floor
Installation by Launa Bacon.



[ RETURN to ARTWALK Main Page ]


This website is sponsored by THE MONTIBON COMPANY.